Living Areas
Indoor Living
The perfect place to lounge, the villa features a comfortable living room with cushioned sofas and a flat-screen television. In one corner, a little kitchen counter has tea and coffee facility. The living room adjoins the bedrooms, separated by doors. With glass frontage, opening up onto the pool deck, it is an inviting space to spend hours in.
Outdoor Living
Large sliding doors open up to the wooden patio which has relaxed seating with scenic vistas. A shimmering private infinity pool stretches across the length of the patio, with wondrous views of the blue sea below and the green mountains around. Enjoy sitting on the deck in the morning with your cup of tea or watch the sunset from here, cocktail in hand.
Bedroom
The one-bedroom villas in Selong Selo are designed in either studio-style or with separate living and sleeping areas.
Master Bedroom
The bedroom is bright and flooded with natural light through the floor-to-ceiling windows and glass walls on two sides. The bed is positioned such that you can enjoy greenery as well as vast sea views.
Children's room

Some of the one-bedroom villas also have an additional children's room. Featuring either a single bed or a bunk bed tucked into a corner, the room offers a cosy space for the young ones to call their own. The room is also useful if travelling with a helper or a nanny.
Quick Facts
Location
Selong Belanak, Lombok, Indonesia.
Capacity
2 adults and 1 child (or nanny).
Living areas
Living room; master bedroom; bathroom with a shower; children's bedroom; kitchen corner with refrigerator and tea/ coffee facility.
Pool
From 5 to 7 metre length.
Staff
General Manager for the estate, private chef (available on extra charge), housekeeping and service staff, 24-hour security. Additional staff such as a nanny/babysitter, masseuse and driver are available upon request, at extra charge.
Dining
The restaurant offers a wide variety of Western and Asian dishes. Private barbecue services available at extra charge. Daily breakfast is complimentary and may be enjoyed at the Aura Restaurant, room service is available for in-villa deliveries, subject to a fee.
Communication
WiFi broadband internet access in the villa and restaurant pavilion; mobile phone in the villa for your use.
Entertainment
Flat-screen TVs with Netflix, may be Smart TVs or have Chromecast.
For families
Selong Selo is well equipped for families. Baby cots are complimentary for children below two years old. Other items are available on request for a small hire fee. The Kids Club is set to open shortly.
Spa & Gym
Massages and a range of beauty treatments can be arranged by the villa staff and enjoyed in-villa. The estate also has a canopied spa where you can get a relaxing massage by skilled specialists, with the blue ocean spread out before you. A gym with comprehensive fitness facilities is available for all guests to use.
Transport
A car and driver is available for hire at an extra charge. A free shuttle ferries guests to and fro from the beach at pre-designated timings during the day.
Weddings & Events
Special occasions and intimate events can be arranged at Selong Selo resort with prior notice. Please contact us for specific details.
Additional facilities
Barbecue; car parking; safety deposit box; back-up diesel powered generator.
Property area
100 - 128sqm (villa).
Marketed by
Villa Layout
Each villa does have a slightly different layout, but the same luxurious design.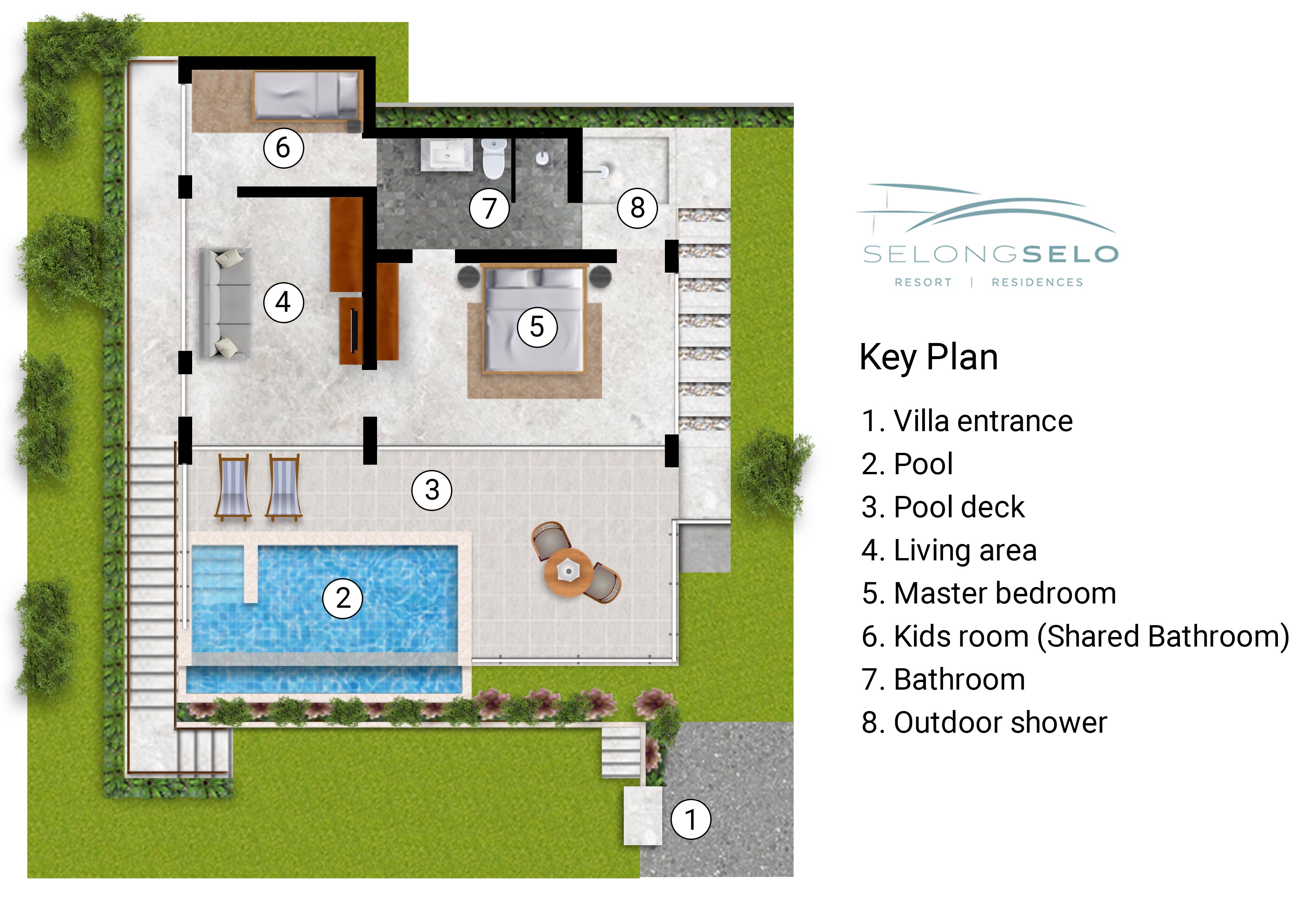 Download in high resolution